In Confluence, diagrams are a visual presentation of information or data. They also illustrate concepts, processes, systems, workflows, organization structures, and more. 
As Confluence doesn't have any diagramming ability built in, it supports plugins to help its users embed diagrams directly to the Confluence pages. However, it does not mean that one person can make one perfectly from the beginning. 
There are practices to follow if you want to take advantage of diagrams in Confluence. Let's begin.
The best practices when drawing diagrams in Confluence
Before diving down to the practices, you might want to take a look at types of diagrams first. There are a bunch of types you can use, so you should take some time to discover which one suits your needs.
Once that's done, you can move on to the best practices for using diagrams in Confluence and illustrate your ideas.
1. Use the right diagramming tool in Confluence
As mentioned earlier, Confluence supports plugins and integrations to let its users embed their diagrams into pages. And there are lots of options to choose from. 
At this point, you should take some time to evaluate each tool and see which one suits your requirements and purpose. Moreover, you should also consider the tool's ease of use so you won't have to spend days learning how to make the diagramming tool work. 
You can take Mocky as an example. This tool offers great diagramming abilities with simplicity, helping you to create diagrams in no time.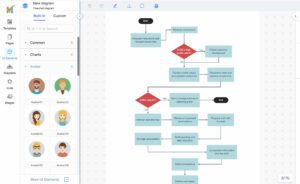 2. Keep your diagrams simple and concise
The main purpose of a diagram is to convey information quickly and precisely. Therefore, you should avoid cluttering your diagrams and overcomplicating any details. Besides, you should use visual cues such as colors, shapes, and labels for better understanding. 
3. Be consistent with your diagrams in Confluence
Without a doubt, you should establish a consistent style for your diagrams for Confluence. This includes shapes, colors, fonts, and line styles. This practice will come in handy as it will increase readability and make your diagrams look more professional. 
Besides, you should remember to use the same conventions and symbols relevant to the ones you're creating. 
4. Avoid curved lines in your diagrams for Confluence
Normally, it is easier to track straight lines, vertically and horizontally drawn. It's not that curved lines are bad, but they can bring confusion if you don't draw them separately enough. 
If you still want to bring these curved lines into your diagrams, be mindful and avoid using too many of them. 
5. Avoid intersecting lines
Needless to say, this is one of the most important practices in drawing diagrams. All it takes is two intersecting lines in your diagram to make you misread it. Therefore, you should avoid them at all costs. 
6. Leave out some spaces in your diagrams
Although you are making a detailed diagram packed with information, you always remember to leave some space among elements. It can be difficult to differentiate which element belongs to which label. 
So, keeping them separated from one another is a good practice as it will increase readability and avoid cluttering. 
7. Manage diagram versions
You should always keep track of the changes made to the diagrams by using Confluence's version control functionality.  
8. Optimize your diagram file size
Big-size diagram files will make the loading time slow or even cause unexpected issues. Therefore,  you should compress or optimize the images and diagrams before uploading them to Confluence.
More importantly, this practice can also help you avoid compromising the diagram's quality when auto-minimizing. 
Conclusion
These are the best practices that will help your diagrams in Confluence. Some can be very important to your business, and they are definitely worth the effort to establish the modeling principles.